Client
Kids Atelier is a children's fashion clothing retailer with 12 boutiques in the US. The client curates the best international brands to offer children more sophisticated fashion options. The client sells high-end clothing through its stores as well as online through its website and Amazon.
Business Challenge
Kids Atelier had challenges in having reliable sales performance insights and inventory levels in stores and online. The store sales transactions were executed through Lightspeed and online sales through Shopify. However, the client had only spreadsheets of sales transactional data provided on a weekly basis. Through an arduous manual process, the client has to identify the category/brands of merchandise selling well across individual stores and online and it was slow and less reliable. By the time the marketing campaigns were tuned to promote the merchandise based on sales data, the seasonal nature of the business made it less relevant. The delay in inventory level updates caused the stores to run out of popular merchandise frequently resulting in lost sales opportunities.
Solution
Agile GCP Labs, a Google Cloud Partner, build a complete Marketing Analytics solution end-to-end for the client to have up-to-date insights on the sales in stores and online and latest levels of inventories store-wise. Agile GCP Labs designed an architecture that
Cloud Pub/Sub to ingest the transactional, user profile and inventory level sales data from stores using Lightspeed APIs for every sale at the store.
Cloud Pub/Sub to ingest the online transactional and user profile sales data using Shopify APIs.
Cloud Pub/Sub to ingest campaigns level sales data across Google, Bing, DoubleClick, Facebook, Amazon and other platforms on daily basis.
Cloud Dataflow for stream and batch sales transactional data processing to store in BigQuery, and inventory and user profile data to store in Cloud SQL
Google Data Studio to retrieve data from BigQuery and present dashboard visualization of deep insights into sales performance, sales patterns, users buying behavioral patterns, marketing campaigns effectiveness and more.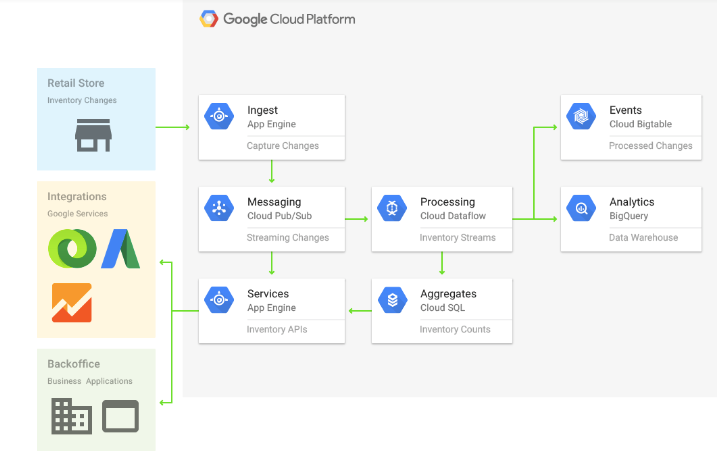 Results
Through visually appealing dashboards from Google Data Studio, the client was able to derive deeper insights on
Top category/brands that are driving most sales.
Geographic and demographic of audiences buying the merchandises
Days/times when sales peaked during the week.
Latest inventory levels of stock in each store
Effective campaigns across all platforms to help guide the optimization to boost sales
In addition to descriptive analytics, Agile GCP Labs was also able to provide prescriptive analytics to guide the clients planning over the year to boost predictable sales growth.